Motor vehicle accidents are responsible for over 3 million injuries a year. Unfortunately, while auto injuries are very common, there's no such thing as a typical and straight forward case. Having the support of an experienced legal team that can make all the difference. A motor vehicle accident can have devastating effect on victims, leaving many seriously hurt as well as turning their financial lives upside down.
If you or a loved one has been involved in a car accident or any other personal injury where someone else was at fault, our firm can help. Call us today at (510) 865-5409 to tell us about your case, or contact us online.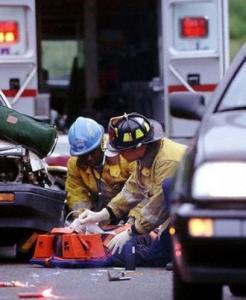 Motor vehicle accidents comprise any accident or injury received as the result of a car, bus, truck, bicycle, motorcycle or other motorized vehicle used on public roads and highways. More than three millions motor vehicle accidents take place in the United States each year, but over the past several decades we have learned there is no such thing as a simple or straightforward case. If you are the victim of a motor vehicle accident, you need an experienced and aggressive legal team who will go over every nuance of your case to ensure your rights are respected and, if need be, that justice is served.
In addition to physical injuries, victims of motor vehicle accidents can suffer from emotional trauma, lost wages, permanent disability and, in worst case scenarios, their families and friends must learn how to move forward after a victim's wrongful death. The Law Office of Joseph W. Campbell is ready to serve as your legal advocate in the court room, or to help you get the settlement you are entitled to.
Hire a Bay Area Motor Vehicle Accident Attorney Who Can Get to the Bottom of Things
There are rare occasions where fault is unquestionable. However, more often than not, determining who was at fault, or whether or not negligence was involved, is a complex process. Our team uses your testimony, witness accounts, police reports, and professional accident recreation specialists in order to get a more clear representation of what occurred at the scene of the accident.
Examples of motor vehicle negligence include:
Failure to obey traffic signs or signals
Texting while driving
Using a mobile gadget while driving
Reckless or careless driving
Failure to follow the speed limit
Operating a motor vehicle while under the influence of alcohol or drugs
Distracted driving
Accidents caused by defective or recalled vehicles
Violation of some other law or regulation
Other motor vehicle accidents and injuries can be caused by defective roadways, roadway debris, or local construction hazards. Even cases where accidents are caused by a hit and run driver can lead to claims.
Contact A Bay Area Motor Vehicle Accident and Personal Injury Lawyer for Impeccable Representation
For more than 40 years, the Law Offices of Joseph W. Campbell has provided impeccable representation to clients and families who have been physically and/or emotionally affected as the result of a motor vehicle injury or wrongful death case. Contact our office and schedule a free consultation so we can review your case. We will help you get the compensation you deserve.