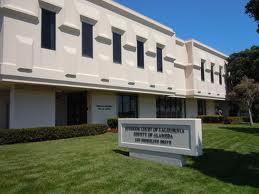 On January 18, 2011, Alameda's  Courthouse on Shoreline Drive will become a Family Law Center for the County Court system.   All three courtrooms will be used solely for family law hearings such as dissolution (divorce)  trials, child and family support proceedings , and related matters.
All of the Family Law departments now located in Oakland will move to Alameda.
The Courthouse was built over twenty years ago and literally has a beachfront location just south of the Town Centre.  It was named the George E. McDonald Justice Center in honor of Alameda's own retired Judge George McDonald.  The building has long been a favorite of lawyers and jurors alike with its shoreline access,  friendly and helpful clerks, and most important…free parking!
The best public transit link to the Courthouse is via the Line 20 bus which connects to the Fruitvale BART station.
Alameda residents who know about their very own court mostly become acquainted with it when they pay parking tickets.  Hopefully one of the clerk's windows will continue to be available for this purpose but as of this writing that remains unclear.
Judge McDonald, now 90 years old,  was seen out and about Alameda frequently in his retirement years.  He was and is a strong supporter of many of the City's public causes.   He is a loyal alumnus of St Joseph-Notre Dame High School and the University of San Francisco and its law school.