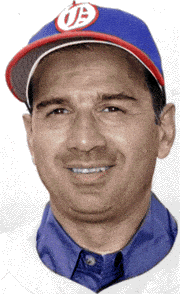 As the San Francisco Giants celebrate their first World Series win, we are reminded how many Bay Area athletes have starred in the Major Leagues over the years. Alameda itself has a rich roster of players… from Dick Bartell and Chris Speier to more recent  stars like Jimmy Rollins.
Alameda lost one of its most famous baseball legends just this last month… the great Bill Raimondi. Bill played catcher for over 20 years with the Oakland Oaks of the Pacific Coast League, the West Coast majors before the Giants and Dodgers moved to California. He was a lifetime .285 hitter and a fielder par excellence. Players of his era called him the best defensive catcher they had ever seen and he was a fine base runners as well.
All this from a guy who was only 5'10" and 160 pounds. He called Alameda his home for decades and was a fixture at the Alameda golf course and all around town in his post-baseball days.
Bill passed away at the age of 97 on October 18,2010, and his memorial service at St. Philip Neri Church drew a standing room only crowd. Father Jojo Puthussery remarked that he rarely saw attendance like this on most regular Sunday masses. It was a fitting tribute to a true Alameda legend, who was loved by many and admired by all.